It´s all about the last 10%.
Change the game and create your dream life with the help of creative writing. 
If you know its time for a radical shift and a "Hell yes, I'm all in for life!"
or at least a "Whatever else, but not more of what I had till now!"
I have good news for you:
That magical shit is already here, no matter where you start. 
There is NO impossible.
We are gonna dig that stuff out and saw the right seeds at the right field at the right time.
We gonna find out what you are able to imagine.
Oh and... your harvest will be beyond every imagination.
This courses will help you to:
- Examine your actual situation
- Clarify what you don't want anymore and what you want to have instead
- Find out what held you back till now
- Finding out more about your WHY
- Making actual steps to change your situation, the right ones at the right time. First on paper, then in real life. 
- Just enjoying the process of writing with no goal and with that - learning to do the same with life:-)
Click below for a list of topics and upcoming events.
---
Hey You.
You beautiful human being. 
There's some extra time for you.
For your exact personal situation. 
No agenda. No goal that does not fit for you. No expectations.
Just us. Just possibilities, the source of life and what you tell me.
Let´s go on this trip together.
You write the seeds. You grow the paradise. I help you to water it. The best thing is companionship.
---
The best place to meet is always in reality.
That's the stuff good memories and life changing experiences are made of. Its where life actually happens.
Are you curious? There´s so much to explore! Follow me...
---
---
Invite me as a stagepoet and what you get is fresh, deep and truthful lyrics with high recognition value. 
My main topics are: Authenticity, Freedom to play, thoughts about justice, politics, growth in love, stories about people with migration background, feminism, spirituality... The most important thing for me is that I don't just pronounce words. I go on stage to show that words always create atmosphere. This atmosphere is able to touch people, heal and encourage or to break them down. We decide.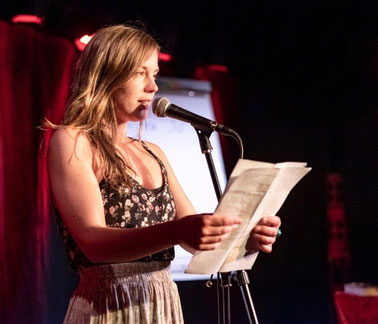 (c) Max Schmidt Fotografie
Here is what you get:
Life is a wonderful, powerful gift in every way. No matter what happens, we can build a palace from dust. 
I give speeches on different topics (click below for a list) that create hope, freedom, a deep understanding of being loved and supported and a new quality of feeling self- effective.
Get me and my list for eye -opening, motivating, empowering and passionating speeches